© Schwarzkopf
Styling Tips from the Hair Styling Professional
Armin Morbach, our Schwarzkopf hair expert, has shared with us his tips for how you can prepare your hair at home for styling and also the tools you need create beautiful hair like a pro! Whether you're trying to create beautiful curls or sleek straight hair he can tell you how!
Armin Morbach tells us how you can straighten, wave or curl your hair and create perfect classic or trendy hairstyles. In his videos, he shows how to style beach waves, how to use gel for a faux undercut, and how to create updos and rockabilly style party hairstyles. Armin lets you share in his rich arsenal of styling methods so that you can manage your hair to your heart's content. Learn what tools and methods to use for the creation of classic or trendy hairstyles with shiny or matte, big or sleek, straight or wavy hair. Nothing is left to chance from the preparation before the styling to the beautiful finish.

You find the complete set of Armin Morbach's hair styling videos in our Styling Methods category.
Below, we have gathered together a few of Armin Morbach's valuable tips on hairstyling and styling those all-important preparations:
Professional Tips on Shampooing and Blow-Drying Your Hair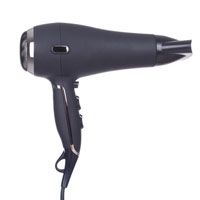 High-Volume Styling Starts with the Shampoo
The preparations for voluminous hairstyles start with the shampoo. Here is Armin Morbach's tip: "For high-volume hairstyles use a rinse, which does not weigh your hair down."
Q: Should You Shape Your Hair with Your Fingers or a Brush?
A: Use Both!
Armin recommends: "After the shampoo blow-dry the residual moisture out of your hair. Use your fingers to untangle your hair before combing or brushing it." Ideally, your brush should have natural bristles such as wild boar bristles, which give hair that extra lustre.
Heat Protectant: Spray vs. Mousse
"Always apply heat defence spray before using heated styling tools such as the hair dryer, flat or curling iron. Heat protection spray also provides additional light hold. Use heat protectant mousse if you want to create bounce by applying the mousse to the root pn of your hair", explains Armin Morbach.
Professional Tips on Hair Straightening
Always brush your hair before straightening it!
Before straightening, brush your hair (preferentially using a brush with natural bristles) and remove all residual hairspray, mousse, etc. "Brushing your hair relaxes it and makes hair straightening much easier"
How to keep hair straightened:
Over time, hair tends to revert to its natural shape. Hair professionals have a method of preventing this. Armin prevents straightening hair one small strand at a time: "If the strands are too wide or thick the hair will revert to its wavy nature right away. Using a comb and straightening your hair one small 2-inch strand at a time, works best. To keep the hair straight I use two or three passages with the straightener".  
Use a comb to cool overheated hair:
Despite all caution, it may happen that hair gets too hot during straightening. Here is a quick remedy: "Use a comb, allow the overheated hair to fall over it. Then run the comb through the hair a couple of times."
Video: How to Straighten Naturally Curly Hair Using a Flat Iron
Professional Tips on Curling Hair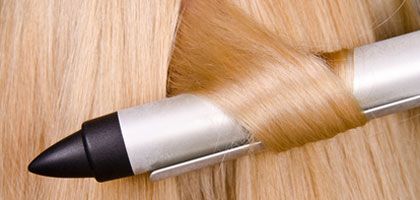 Large and small-diameter curling tongs:
Whether you want to use a large or small-diameter curling tongs depends on the desired result. Armin suggests using both types of curling irons: "It is easy to create springiness in the hair ends using a conic small-diameter curling iron. Use a large-diameter curling tongs to produce large, casually falling waves."
A lot of curling mousse helps a lot!
Thoroughly work a generous amount of curling mousse through your hair (from the front to the back). Armin points out, "The more thoroughly you work the curling mousse into your hair the more beautiful the created curls will be."
How to create uniform curls:
Roll your hair onto curlers in only one direction (front to back) to create organised looking curls.
Creating casual looking curls:
Randomly roll your hair onto curlers in all directions for tousled curls or a modern, casual hairstyle. "I would curl the front and side section of the hair from front to back so that the hair does not crowd the face. The rolled up strands on top of the head should be slightly smaller and widen toward the ends".
Does blow-drying destroy curls? The answer is 'No'!
Using a hair dryer with diffuser attachment and using it gingerly ensures that curls survive the blow-drying.
At a pinch, paper towels serve as rollers:
If professional styling tools are not at hand, any kind of paper wipe can be turned into a substitute for soft rollers. Armin Morbach explains how to use them: "Fold the wipe and use it as soft roller. Take a small strand of hair and roll it around the middle of the make-shift soft roller. Then twist the ends of the soft roller and knot or tie the ends together".
Video: How to Turn Straight Hair into Gorgeous Curls
Professional Tips on Styling
Volumising powder helps to style updos:
Armin sings the praises of volumising powder, "It makes hair more manageable, and creates a voluminous, matte appearance".
Straighten hair before styling with hair gel:
It is recommended that straightening the hair with straighteners or a hair dryer before the application of gel.
Use a hair dyeing comb or eyelash brush to create wet hairstyles:
To create a wet hairstyle, use two styling tools, which were not originally designed for this purpose: "With the brush you can apply gel to the root portion, close to the scalp. As finishing touch after applying gel, you can use an eyelash brush to apply an extra layer of gel".
Video: How to Create a Sleek Catwalk Hairstyle