© Getty Images
Styles for Frizzy Hair
If you have frizzy, curly hair you may like to style it into a bun to keep it under control and off your face. Alternatively, you could let the curls naturally fall in place. Be inspired by some of our easy to create hairstyles for curly hair:
1. Straight Top, Frizzy Length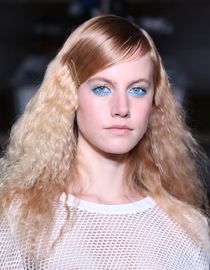 Curly hair can be hard to tame, because of its natural volume. To help tame the volume, you may like to leave your hair natural but straighten the hair at the top of the head to the temples. (Make sure you use heat protectant spray on towel-dried hair before drying and styling). The contrast from straight to frizzy creates an exciting look.
Extra Tip: Finish your look with hair oil to make the hair soft and smooth.
2. Quiff with Frizzy Length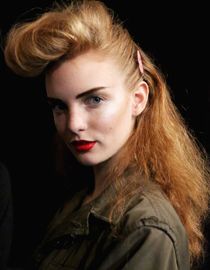 Curly hair has natural volume, use this to help create a dramatic quiff. Simply take a thick section of hair at the top of the head near the hairline. Form the section into a large quiff, fixing the hair ends in place with hair grips. Pull back the hair on the sides, fixing it in place with wax and more hair grips. The rest of the hair is left naturally curly.
Extra Tip: Using a striking, colourful hair clip is especially eye-catching.
3. Tame in the Front, Frizzy Elsewhere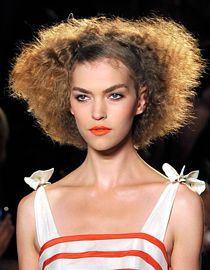 For this look make a parting and fix the side hair and/or fringe in place with hair clips: For extra hold use hair wax to help keep the natural smoothness around the face. The loose curly ends make the look alternative and edgy.
Extra Tip: Frizzy hair can become very dry so use a matte paste when styling.