© Deklofenak/Fotolia
How to get Mind Blowing blow dry results
Ah that post salon feeling. You've just had your hair pampered, preened and after the blow-dry you're feeling like an absolute superstar. Why shouldn't you be able to re-create that feeling at home?
We're going to give you the tips you need to put the bounce and lustre back into your hair and with the help of the brand new got2b Mind Blowing range, you'll be able to get a salon style blow-dry look in a fraction of the time!
Here are our top 5 tips for blow-drying success:
1. Not too close! Keeping the hairdryer at least 8 inches away from your hair is a great way to protect from that harmful heat.
2. Use that diffuser! This handy attachment creates a more even air-stream and helps prevent individual strands of hair from getting too much heat.
3. Blow-dry from the roots to the ends to create healthy shine and loads of volume!
4. If your hair is fine, keep your air-stream on low to avoid tangles.
5. Finish up with a blast of cool air to give your hair some elasticity.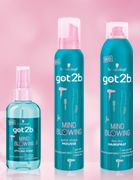 Easy right? Well we're going to make it even simpler now. Our got2b Mind Blowing range reduces your blow-dry for perfect high-speed styling!
got2b Mind Blowing Xpress Dry styling spray works like this: spritz damp or towel dried hair and then blow-dry. The spray helps to condition and detangle your hair whilst also offering that all important heat protection against hair dryers – perfect for a smooth sleek style.
For our got2b Mind Blowing quick shape mousse: Shake well and work a small amount through towel-dried or damp hair and style as desired. The mousse also offers heat protection against hair dryers.
Finish your style with got2b Mind Blowing fast dry hairspray: Spray finished style from a distance of 30cm. Distribute in small bursts. Try spraying onto selected strands to get a more unique look.