Style Trends Article for SS15
With fashion week well and truly over, we have decided it is time to recap what we have seen and learnt from the fabulous runway shows for SS15. Our very own Schwarzkopf hair expert Armin Morbach styled the Felder+Felder runway show at London Fashion week, and has selected his top catwalk hair trends for SS15.
Check out the looks and your guide for creating them at home.
Beach Bump Pump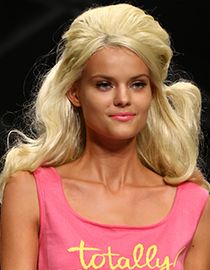 The Beach bump Pump is a style which is loose and carefree with a mix of beehives and backcombing.  A Bardot inspired style, is worn with wavy long hair that has been perfectly teased and tousled to create a beautiful style.

All you will need to create this is: heat defence spray, comb, mousse, hairspray, BB Cream for the ends of the hair.
Step by step guide:
· To create the Beach Bomb Pump, first wash your hair with essence ULTIME Biotin+ Volume Shampoo and Conditioner to create extra volume at the roots.
· Next, spray hair all over with got2b Guardian Angel heat defence spray and then blow-dry your hair straight.
· Section off two strands of hair to frame the face and then backcomb the remaining top section of hair, finishing with got2b 2 sexy volumizing HAIRSPRAY for added volume and strong hold.
· Secure the backcombed section at the back of the head with hair grips and then loosely curl the mid-lengths to end of hair, applying a light dusting of got2b POWDER'ful volumizing STYLING POWDER to the created curls for added texture and volume.
· Finish with a spray of got2b happy hour HAIRSPRAY to ensure long-lasting hold for the ultimate bouffant.
Extra tip! To tame flyaways, apply some essence ULTÎME Omega Repair Beauty Balm to the ends of the hair.
Easy Waves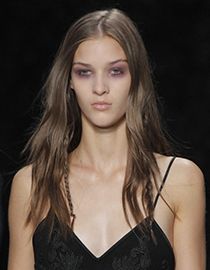 This easy, delicate style, brings a new texture to the beach waves style and works with various lengths of hair. Easy waves is a chic style in for any season.
To achieve this look you will need: Salt spray, got2b Heat defence spray, light weight hairspray, curling tongs
Step by step guide:
· Freshly washed hair is a great base for this look. Once washed, towel-dry your hair and apply got2b Guardian Angel heat defence spray.
· Once dry, very loosely curl the hair with a large curling tong, leaving the last inch of hair straight for a more natural look.
· Next, twist and wrap the hair into two buns and lightly spritz with got2b Rise 'n Shine HAIRSPRAY for added texture, gentle hold, volume and gorgeous shine.
· Once the hair has cooled, undo the buns and run your fingers through the hair to separate and loosen the curls. Boho chic has never looked so good!
Modbob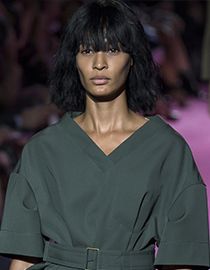 The Modbob is an adapted retro look that takes inspiration from the often severe styles of the 60s mods. This hairstyle is all about the fringe, keeping the length above the shoulders and working a fierce look.
To get the Modbob Style you will need: Root-volume foam, powder and hairspray.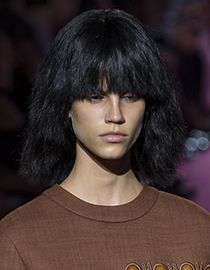 Step by step guide:
· To create the Modbob look, texture through the lengths of your hair is essential, so we'd recommend applying got2b POWDER'ful volumizing STYLING POWDER directly into the roots, for instant volume, and then through the lengths of the hair for gorgeous texture that lasts.
· To finish, lightly spritz the style with got2b Happy Hour hairspray for long-lasting hold.  
Mewrongs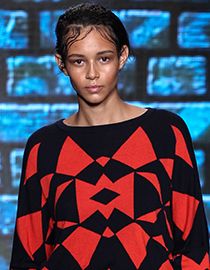 This style is for the bold fashionistas out there; slick look with a parting for a no-nonsense style. This look is used across the board by brands, and is a must have look if you're going for catwalk style.

The mewrong look can be tight on your head or undone and messy. So will it be retro feel or modern catwalk? The choice is up to you but whatever you go with you're bound to turn heads with these runway ready looks.
To add a mewrong edge to your style, heavily gelled hair is key.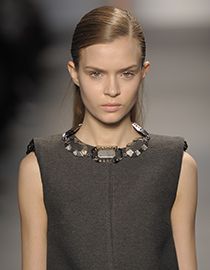 Step by step guide:
· For a sleek hairdo, towel-dry your hair straight before creating either a middle or side parting.
· Next, apply a generous amount of got2b glued SPIKING GLUE to the top section of your hair and then slick the hair back into the desired style.
· To add movement, spritz the mid-lengths to ends of your hair with water and again apply the glue, cementing the style in place with a blast of got2b glued BLASTING FREEZE SPRAY.
Sumptuous Brunette Shades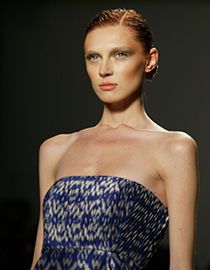 After A/W 2014 collections embraced rich, dark brunette hues, the trend for brown shades will continue to be key for S/S 2015 but with a lighter twist as seen at Saint Laurent Paris, John Galliano and DKNY. Brunettes gracing the catwalk during international fashion weeks wore warm brown shades with tones of copper and bronze, highlighting it as the go to look for spring.
Schwarzkopf ambassador, Armin Morbach, advises "Rich, chocolate brown shades were really prominent on the catwalks this year and I expect them to be big in 2015, with brunette copper hues being a perfect complement to the lighter spring/summer months. The warm hues work on every skin tone and help create a natural, effortless look when it comes to colour. As a result Schwarzkopf have developed a range of rich brown shades for the consumer to enjoy and ensure that they are right on trend."
Get the look:
For shades that answer this rich, brunette trend, try our Color Mask 568 Chesnut Brown, a warm brown shade with red tones, this not only offers you the perfect hues for SS15 but also fuss free colour. With its rich, hair mask texture, Color Mask allows easy, even coverage, even on greys. If a red undertone isn't for you, 400 Dark Brown and 300 Black Brown offer rich brunette shades on darker hair. 
Bronde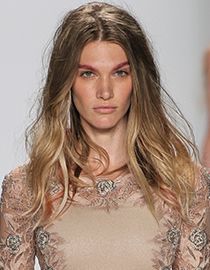 Sun-kissed-looking brunette hair has graced the catwalks of Burberry Prorsum, Michael Kors, Vera Wang and Badgley Mischka and will make its mark in S/S 15.
This combination of brunette and blonde hair adds a multi-tonal depth to the hair for a natural 'outdoor' look.
Get the Look:
For a subtle take on the bronde look on brunette hair, comb a lightener, such as LIVE 00A Absolute Platinum, through the midlengths and ends of the hair. As this look is natural, there is no need to ensure that the colour is evenly spaced. Rinse and roughly blow-dry for a textured style that highlights the blonde and brunette tones.
Platinum Blondes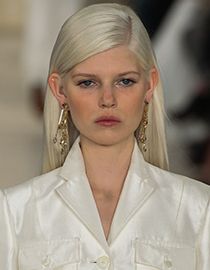 After their come back last season, platinum blondes were still dominating the catwalks in the S/S 15 shows.
As seen at Moschino, Ralph Lauren, Jill Sander and Vera Wang, the icy blondes helped create a show stopping performance.
Get the Look:
For extra light blonde results, apply a lightener, such as LIVE 00A Absolute Platinum or LIVE 00B Max Blonde to natural hair and for an extra platinum boost, distribute LIVE Toner Mousse Icy Platinum through your hair. The mousse neutralises unwanted yellow tones for a cool, pure blonde result. It can even be used to achieve a cooler tone on naturally blonde hair.