© Getty Images
Men's Hairstyles: Milano Moda Uomo
The Milano Moda Uomo showcases the newest in ready-to-wear fashion for men. The event also features the up and coming hair fashion trends for men. End of June, the designers showed us men's hairstyles for the spring and summer of 2013, which are all the rage at the Italian fashion metropolis. Why not get a jump start on the cool new hairstyles?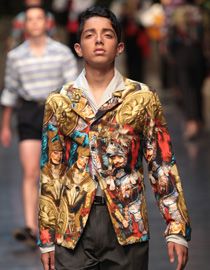 Milano Moda Uomo (Men's Fashion in Milan) revolves around men, fashion, and style – lots of style! You may like to join us on our excursion to three fashion highlights before getting serious about hairstyles.

In a moving exhibition, the designer duo Dolce & Gabbana paid tribute to their original homes in Sicily. A Sicilian brass band accompanied the fashion show.Instead of professional models, Sicilian youth and men from villages and small towns like Taormina and Messina showed most of the designers' new collection.The designs included silk shirts and trousers with Sicilian tourist motifs.

The British label Burberry Prorsum used the phrase "come rain or come shine" as the motto of their fashion show. Central to the collection was the typical English rainy weather. Part of the designs were shirts, trousers, trench coats, and other outerwear in very bright pink and turquois with metallic shine but also in sage and coppery tones. The colours guaranteed good cheer "come hell or high water" (the other version of the show's motto). For the record: Wearing bright yellow sandals with black socks is officially acceptable after this new collection by Christopher Bailey.

Donatella Versace also features colourful eye-catchers like sleeveless sport jackets and blazers in pink or turquois in the new collection. More dramatic still were the style elements from the boxing arena. The models showed silk robes, silk shorts, and wide champion belt like boxers and sometimes also gladiator sandals. This 2013 fashion truly is for real men and red-blooded fighters.

Hairstyles for Guys
We are looking forward to seeing some of the new men's hairstyles often. This applies particularly to hair, which is layered on the sides and a little longer on the crown of the head. Such styles can be styled to a peak (see hairstyles by Bottega Veneta), twirled up (styles by Jil Sander) or also gelled back (see Salvatore Ferragamo's featured hairstyles). Very appealing are also wild curls if a clever haircut keeps them in shape (see hairstyles by Roccobarocco). These hairstyles celebrate the joy of life. John Varvatos' models wore very sporty short shags with long fringes.

By now, you probably can't wait to see some photos of these hairstyles. We aim to please and show you the coolest men's hairstyles in our gallery. Enjoy choosing your own style from the men's hairstyles as seen at the Milano Moda Uomo 2013.

Gallery: Men's Hairstyles
This is a terrific haircut for men with wild curls. The neck hair is short and cut in steps while the hair on top of the head is longer.


Styling: After the shampoo, simply work curling mousse through your hair and allow your hair to air-dry. Run your fingers through your hair to fluff it up. That's all! It does not get any easier

The hairstyle of this Salvatore Ferragamo model is not only for smooth guys.

Styling: Blow-dry your hair while slicking it back using a comb. Then apply some gel to your fingers and distribute the gel front to back over your entire hair. Now comb your hair back as desired

This short shag sets you up for the British pop scene.

Styling: After shampooing work styling mousse through your hair. Then blow-dry your hair while pulling it over a round brush. Accentuating individual strands with wax gives this hairstyle the final touch

This Dolce & Gabbana model features a spiked hairstyle with very short side hair. Simply apply hair wax or gel to your fingers before you use them to style your hair to a single spike with a wide base on top of your head

This look is easy to style and maintain. After shampooing, allow your hair to air-dry. Then apply some hair wax to your fingers before running them through the top layer of your hair to distribute the wax. Now pull some strands of hair into your face any way they may fall. Strands of hair will naturally fall into your face if you hold your head upside down and shake it a couple of times. This way, the style appears particularly natural

Men's Hairstyles: Roccobarocco
---
This is a terrific haircut for men with wild curls. The neck hair is short and cut in steps while the hair on top of the head is longer.


Styling: After the shampoo, simply work curling mousse through your hair and allow your hair to air-dry. Run your fingers through your hair to fluff it up. That's all! It does not get any easier