© Getty Images
Summer Hair Styles 2011: Cool on Hot Lazy Days
Twisted braids, twists, ponytails or casually undone chignons are all the rage among this summer's relaxed hair styles.  This summer, International fashion designers compete for the coolest and most casual hair styles. We are going to show you five of the most nonchalant summer hair styles complete with simple instructions on how to match the hair styles of the models

Relax and enjoy the summer! The new hair styles are about easy living. Perfection is out, nonchalance is in! More to the point, it is the undone style, which is all the rage. The designers show how undone is done. Right now, their models wear loosely fixed chignons and casual braids and twists to demonstrate the 2011 spring/summer designer collections and styles.
 
Once again, the versatile ponytail is the best loved updo and also serves as basis for many other styles. Calvin Klein featured the low ponytail with loosely teased hair in the back of the head. Nanette Lepore showed a cool but glamorous version of the ponytail turned twist. Donna Karan also started with a ponytail and cleverly transformed it to a delightfully messy updo.

Eva Minge has fun creating the most casual chignons and Michael Kors simply braids the hair into two loose knots. What do we like most about the 2011 summer hair styles? They are cool and easy to style with perfect imperfection.

2011 Summer Hair Styles: The Ponytail with a Twist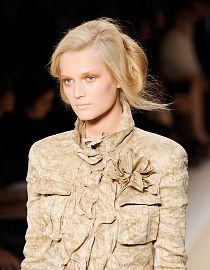 The Style:
Donna Karan likes her hair styles simple, nonchalant and relaxed this summer. At her Summer/Fall 2011 fashion show, the New York designer demonstrated how a simple ponytail can turn into a casual updo with a simple twist. This clearly shows how simple ideas can create big impressions.


You need:
styling gel, a scrunchy, hair pins and hair spray
How to Create the Style:
Work some styling gel through your ponytail; then part your side hair not too accurately
Gather your hair in a low ponytail and loop it upward. Now fix the loop with hair pins
Apply hair spray to secure the updo. Your hair refuses to stay in place? Never mind, your hair style is perfect the way it is: casual to messy