© Getty Images
Hair Colours of 2015/2016
We went searching far and wide to give you a head start on selecting the trendiest hair colours for the coming season. The most fashionable new hair colours are coppery red and platinum blonde. Hints of pastel tones have also been seen across the catwalks.
The secret is out: still plain and natural styles, paired with hair colours like platinum blonde and coppery red to brighten the look. 
Hair Colours of 2015/2016
AW 2015/2016 Hair Colour: Platinum Blonde
If you're thinking of trying a platinum blonde colour, then AW 2015/2016 is the time to go for it! This shade has been hurled into the lime light as we have seen a few celebrities' change their usually dark brown hair, to the crisp, white, platinum look!
If you are thinking of becoming a blonde convert, then make sure you choose the right shade for you! You will need to consider your natural hair colour and your current colour (especially if it has been previously coloured). We have a number of blonde shades in our LIVE portfolio for you to choose from >> Click here Be sure to always carry out an allergy alert test at least 48 hours before colouring and follow the instructions provided in the instruction leaflet!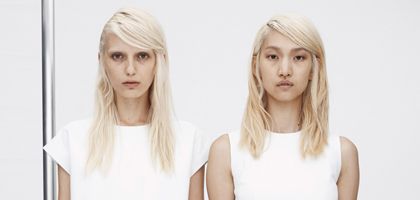 Autumn/Winter 2015/2016 Hair Colour: Pastel Colour Accents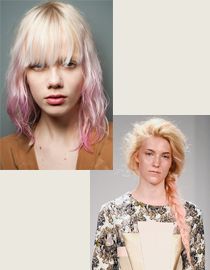 Pastel coloured accents in the hair are also predicted to stay with us right through the Autumn/Winter seaon this year. Sweet pastel colour accents are especially noticeable in platinum blonde hair and you can select from a wide range of colours. Our pastel shade of choice would definitely be pastel pink! 
You can learn here how to recreate your own pastel dip-dye below. Simply substitute the LIVE Ultra Brights Turquoise Temptation with the shade of your choice!
AW 2015/2016 Hair Colour: Coppery or vibrant Reds
Red hair is rare in nature, but with a helping hand, you can create your own red shade at home! Whether you want a vibrant red shade or a more subtle, coppery tone, there are plenty of shades to choose from!
 Our favourite vibrant red shade, has to be LIVE 43 Red Passion and we always turn to Color Mask 657 Light Copper Brown for the perfect copper shade! 
If you are thinking of trying a new hair colour at home, always carry out an Allergy Alert Test at least 48 hours before applying and follow all the instructions in instruction leaflet – happy colouring!